"I solemnly swear that I am up to no good."
Harry Potter is lucky to reach the age of thirteen, since he has already survived the murderous attacks of the feared Dark Lord on more than one occasion. But his hopes for a quiet term concentrating on Quidditch are dashed when a maniacal mass-murderer escapes from Azkaban, pursued by the soul-sucking Dementors who guard the prison. It's assumed that Hogwarts is the safest place for Harry to be. But is it a coincidence that he can feel eyes watching him in the dark, and should he be taking Professor Trelawney's ghoulish predictions seriously?
Sheesh, I'm behind in my Harry Potter reviews. I guess watching the movie was the kick I needed to finally sit down and write them. Prisoner of Azkaban is tied with Deathly Hallows as my favorite Harry Potter book. It's action-packed, beautiful, scary, stunning! I loved it so much, because honestly, what's not to love! There's Quiddittch (Oliver Wood cracked me up!), time travel (eep!), Buckbeak, Hermione awesomeness, time travel (EEP!), werewolves, prisoners, S.P.E.W., time travel (EEEEEEEEP!!!), & so much more!
Rowling's writing (as I've mentioned before) isn't spectacular, but it's thoroughly entertaining. The world building is growing, and I especially love the village of Hogsmeade. The plot twists are incredible, and the ending is highly unexpected.
This is going to be a relatively short review, because what else can I say about this book that hasn't already been said (and I'm like 10 book reviews behind schedule)?
Harry's growing up! He's no longer that sweet little eleven-year-old from Privet Drive. As the books progress, he's developing more and more, and I love it! He's beginning to take on more responsibilities and his emotions nearly get the better of him multiple times (like a real human being!). One of my favorite scenes is this part…Haha.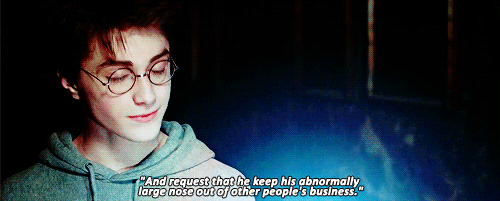 This is undoubtedly my favorite Hermione-book. I've always related with Hermione, but I especially connect with her in this book. She takes on way too many classes and in doing so, distances herself from everyone, loses sleep, and eventually just slaps Malfoy! I also thought that S.P.E.W. was absolutely hilarious!
Blimey, divination would put me to sleep too. Ron is hilarious as usual, but he really annoyed me with the way he treated Hermione when he thought Crookshanks had eaten Scabbers. Speaking of which, I love the significance Scabbers has to the plot! 
I love Sirius Black! He's one of my favorite characters! I felt so bad for him being imprisoned in Azkaban for all those years. Don't even get me started on Order of the Phoenix, okay?
I feel like an idiot. An absolute idiot. His NAME is Remus Lupin. I can't even believe how obvious that was and I didn't catch it! *sigh* Anyway, I loved Lupin – I wish he was the Defense Against the Dark Arts teacher permanently.
And I thought Aragog was creepy…
I am a huge fan of time travel (in case you couldn't tell). Especially, paradoxes…or at least when it's done well. Which in this case, it is! Love, love, loved it!
This is the best magical artifact in the Harry Potter universe. Period. And the Weasley twins are two of the best fictional characters ever. Just thought I'd point that out.
I loved all the original characters, and enjoyed the newer ones too (aka Sirius and Lupin). Harry, Ron, and Hermione's friendship is one of my favorites, because even though they don't always get along, they're always there for each other. I also really liked how Dumbledore and Harry's relationship is manifesting, and Sirius and Harry's godfather-godson relationship sparked. 😀
Which is your favorite Harry Potter book? Let me know in the comments!