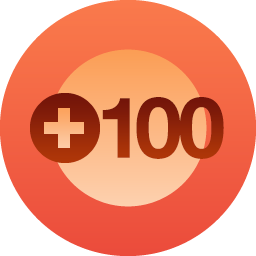 AHHHHHHH!!!!!!!! 100 FOLLOWERS!? Are my eyes deceiving me or have a hundred people actually clicked that little follow button??? No, that can't be right, I barely started this blog two months ago and a hundred amazing people actually enjoy my silly rambles and fangirling!? You guys don't know how much that means to me!
Thank you all so so so much! I can't express how much I love each and every one of you! Every time you guys leave a comment it makes my day. I honestly thought it'd take me two years to reach a hundred followers, not two months! I was always thinking, how will anyone even find this blog, eh? Well, it turns out that 95% of my followers are other bloggers! The blogging community is absolutely wonderful and I love discovering new blogs!
I'd like to give a special shout out to my 100th follower, Samer @ Book Bubble Bee, and my very first follower (who also nudged me into WordPress) Aubrey Joy @ Pointe Taken.
I am still in absolute shock, and can't thank you guys enough! I love you all! ❤