Since this is the first day of February, I figured what's a better way to start the month than with a blog award post! This is my first nomination for an award for this blog, so I'm euphoric! Haha. Thank you so much to the amazing Ally @ Ally Writes Things for tagging me for this!
The Rules
Thank the person who nominated you.
Share 7 facts about yourself.
Nominate 15 bloggers and inform them of the nomination.
---
1. I Am a Huge Disney fanatic
In case this hasn't been evident by the plethora of Disney gifs I use in my posts, I absolutely adore Disney and Pixar movies.  Something about all those charming animations really entice me, and I swear, I will watch Disney movies until the day I die!
2. I Have a Huge Sweet-tooth
It's no secret to all my friends and family that I have a ridiculous sweet-tooth. I honestly love anything with sugar in it, and frankly, it's probably unhealthy. I love any kind of candy, chocolate, cookie, pie, cake, brownie, you name it! My absolute favorite dessert would probably be caramel fudge or something along the lines of that.
3. I Have Never Left My Home State
I have always had a desire to travel, but have never left the country, much less my home state! In all fairness, I do live in Southern California, so there is a lot of stuff to do in this beautiful state. Someday, I will definitely have to travel to Europe or at least another state. Seems doable, right?
4. I Love Musical Theatre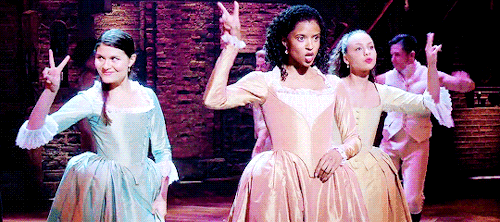 I honestly never game musicals much thought until a year ago, but now I can't go a day without humming a tune from Hamilton or Newsies.  It's such an intriguing form of story-telling, ,and I've really grown to love it!  My first trip out of state better be to New York, so I can see all my favorite shows on Broadway!
5. I Can't Run For the Life of Me
Let me start off by saying, yes, I do love sports. I am a huge fan of volleyball, and enjoy playing basketball or soccer with friends on occasion; however, I despise running in every sense of the word.  I have the worst endurance imaginable, and can't stand how long and repetitive running is.
6. I Love Playing Movie Scores on Piano
Piano is my favorite instrument, and I've been playing it for years.  Although I'm not nearly as skillful with this instrument than I would like to be, I absolutely love playing movie scores.  I can be very emotionally attached to the instrumental soundtrack in certain movies, and the only way for me to cope with heartbreaking scenes is by playing them on piano. How else could I get over Titanic? Haha.
7. I Am the Worst Procrastinator on the Planet
Allow me to present you with a brief example of how awful I am with procrastination …  I'm the type of person who not only shops for Christmas presents on the 24th of December, but also, forgets to wrap them and gives it to friends and family members a few days after the holiday.
---
I Nominate:
Aila @ One Way or an Author
Amanda @ Metal Phantasm Reads
Amber @ Step Into a Book World
Audrey @ Audrey Writes Abroad
Bookgraphy
Bree @ In Love and Words
Briana & Krysta @ Pages Unbound
Ericka @ Existing on Paper
Kayla @ Books and Blends
Kayla @ Kayla's Book Nook
LaRonda @ Flying Paperbacks
Muna @ Muna is Reading
Norrie @ Reading Under the Blankie
Rachael @ Beach Bookworm
Vivian @ Passionately Perusing
---
Thanks again Ally for nominating me! What did you all think of my random facts? Let me know in the comments! Thanks for reading! ❤
Goodreads | Bloglovin | Pinterest | Tumblr | Email